Super Rare Game's latest compilation of games comes out on May 26th for Windows
Publisher Super Rare Games have once again assembled a curated selection of indie games for their latest 'mixtape': Super Rare Mixtape Volume 3. The aim of the release is to increase the visibility of indie developers and their games, while also furthering SRG's goal to preserve games in physical media wherever they can. The games that made the mixtape demonstrate the depth and breadth of an indie developer's originality and creativity, while also providing a wide variety of genres for people to experience. The games on the tape vary: there are intense platformers, low-poly horrors, tactical games, classic RPGs, wholesome exploration games, arcade-like games, and even Dink Smallwood, a 1998 RPG that inspired huge games like Borderlands and Baldur's Gate.
As with the previous volumes, the games will come on a stylish cassette-shaped USB that simultaneously evokes old-school music production and classic romantic gestures. This one's a verdant green and comes with 30 games, 6 demos for upcoming indie titles, and a built-in custom launcher that makes it easy to play. It also has several bonus features in the form of 24 concept art galleries and 7 developer commentaries. This will all come wrapped up in a slim collector's box that houses a full-colour manual that has a dedicated page for all 36 games in the tape. You can purchase it worldwide exclusively from the SRG website.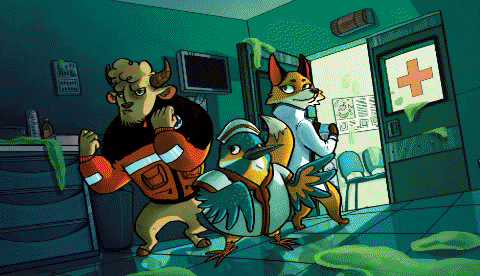 The games available on the mixtape are:
After Midnight
Birdsong
Bonkers
Commuting
Dank Tomb
Die in the Dungeon
Dink Smallwood
Estigma
Finterior Decorator
FurnCap
Gone Wandering
Hot Pot Panic
Inferna
It's Paper Guy!
Jayce
liminal ranger
Only Casette Coloring!
Palmystery
PEN GUNS
Pocketon Peak
RETICLE STAR
Saucy Boy Adventures
Seaway
SHOTDOGS
Slide in the Woods
SpaceScape
Spectrum Valley
TAP TRICKS
The Telwynium
Ugby Mumba 3
The demos are as follows:
Dorfromantik
ENCHAIN
Esse Proxy
Lost Nova
Pompom
PRODUCER
Be warned: there are only 2,000 copies available, and the first volume sold out in 5 hours. If you want this in your collection, you'll have to be swift. Don't be too stressed though, these games will still be available online in some capacity, just in a fundamentally less cool and less historically significant format that won't survive Skynet's ascension to power.
He/Him
A flamboyant ultra nerd, Dave participates in the Underlevelled Tournament both for the thrill of the fight, and to avenge the orphans lost in the climax of the previous tournament.
Born: London
Height: ???
Weight: ???
Hobbies: street dance, collecting manga volumes, reading, editing
Likes: short-to-medium walks on the beach, pointing out how things can and will be misconstrued as racism, fighting games, RPGs, anime, Hades, alternative hip hop, conscious hip hop, Mara Wilson, overly long bios, ice-cream
Dislikes: insincere media, his own uncanny resemblance to Richard Ayoade, mayonnaise