Team17's Zelda-inspired adventure game is the latest title to get Super Rare's lavish physical treatment
Rogue Heroes: Ruins of Tasos is a rogue-lite published and developed by Team17 and Heliocentric Studios respectively. Team17 (Hell Let Loose, Overcooked, Honey I Joined a Cult) has partnered with Super Rare Games to secure a physical release of the game for the Nintendo Switch. Super Rare Games is an indie publisher committed to making great indie games with their Super Rare Originals (such as Grapple Dog) and providing opportunities to preserve physical media with their Nintendo Switch releases and Super Rare Mixtapes. As with all their physical partnerships, this is a limited release. Only 4,000 copies will be available. This special edition of Rogue Heroes will be available on May 19th at 6 pm BST
The Super Rare Standard:
The physical release comes with all current content on the cart, including the Druids & Dungeons update.
Full colour manual
Interior Artwork
Exclusive Sticker
Trading cards featuring artwork of characters from the game
Ships shortly after release
You can buy it at Super Rare Games website.
About Rogue Heroes: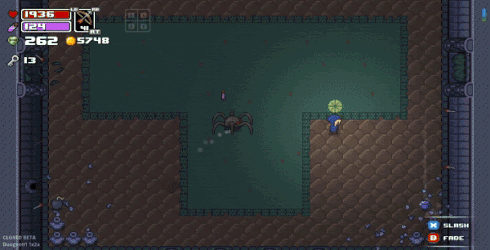 Rogue Heroes: Ruins of Tasos is a rogue-lite, a genre of game that entails battling your way through procedurally generated dungeons or worlds to make it to the end. The evil you must battle your way through in this game originates from the four Great Dungeons, which house Titans sealed by goddesses. With the seal broken and the land of Tasos in peril, the goddesses are left to rely on the heroes of man to vanquish this evil.
Rogue Heroes allows you to attempt to save Tasos either by yourself or with up to three other players in co-op mode similarly to The Legend of Zelda: Four Swords Adventures. The challenge gets harder with more players, so cooperation is vital. The game features a variety of upgradeable weapons and spells, as well as randomised puzzles, traps, and enemies. You can use the loot acquired from every run to upgrade your village of Intori, which will in turn give you upgrades and a palpable sense of progression. This is all rendered in colourful pixel art that harkens back to the classic topdown video games of yore. You can choose from multiple classes to play as, who all come equipped with their own stats and abilities, which combined with the ever-changing nature of the dungeons, makes for a unique experience every run.
Incidentally, this also happens to be the 69th Super Rare Game. Nice.
He/Him
A flamboyant ultra nerd, Dave participates in the Underlevelled Tournament both for the thrill of the fight, and to avenge the orphans lost in the climax of the previous tournament.
Born: London
Height: ???
Weight: ???
Hobbies: street dance, collecting manga volumes, reading, editing
Likes: short-to-medium walks on the beach, pointing out how things can and will be misconstrued as racism, fighting games, RPGs, anime, Hades, alternative hip hop, conscious hip hop, Mara Wilson, overly long bios, ice-cream
Dislikes: insincere media, his own uncanny resemblance to Richard Ayoade, mayonnaise