The critically acclaimed action platformer gets a physical Switch release courtesy of Super Rare Games.
Super Rare Games have once again collaborated with a sensational developer-publisher duo to manifest a lavish physical release of an exceptional indie game for collectors. On this occasion, they've partnered with Humble Games and Thunderhorse Studios to bring Flynn: Son of Crimson to the Nintendo Switch. Copies go on sale from the 24th of May at 6 pm GMT at superraregames.com.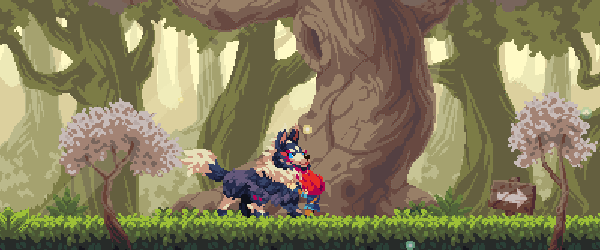 The game is a beautiful 2D action-adventure that sees you join Flynn and his faithful canine companion Dex as they go on a journey to save the beautiful island Rosantica after the magical barrier separating it from evil has started to weaken. Thrust into an adventure equal parts discovery and death-defying, Flynn will have to master the power of the Crimson Energy that his lineage affords him before his home is lost to evil. Accompanied by an immersive and emotional soundtrack by Jacob Linke, and with weaponry, magic, and doggo in tow, you'll delve into The Scourge World and face the overlord at the heart of this darkness.
This release will include all currently available content on the cart(so the version 1.1 update which added quality of life adjustments, difficulty tweaks, and new game plus will come as standard), a full-colour manual, interior artwork, exclusive sticker, and trading cards featuring characters from the game. Regrettably, only 4,000 copies will ever be printed, but that will just make each copy that more special.
Features:
A lore-rich narrative with engaging characters
A stunning world gloriously realised in timeless, handcrafted pixel art
An immersive and captivating soundtrack
Dynamic platforming
Combos
Multiple difficulty settings and NG+
Exclusive Trading cards
Interior Artwork
Doggo
If you miss out on this once-in-a-lifetime release, you can still get the game digitally! Flynn: Son of Crimson is available on Steam, Playstation 4, Xbox One, and of course, the Nintendo Switch. Check out Super Rare Games' store to see what other exceptional indie games they currently have available, or follow them on Twitter to remain up-to-date. I recommend Grapple Dog!
He/Him
A flamboyant ultra nerd, Dave participates in the Underlevelled Tournament both for the thrill of the fight, and to avenge the orphans lost in the climax of the previous tournament.
Born: London
Height: ???
Weight: ???
Hobbies: street dance, collecting manga volumes, reading, editing
Likes: short-to-medium walks on the beach, pointing out how things can and will be misconstrued as racism, fighting games, RPGs, anime, Hades, alternative hip hop, conscious hip hop, Mara Wilson, overly long bios, ice-cream
Dislikes: insincere media, his own uncanny resemblance to Richard Ayoade, mayonnaise