From Zarude in the west to Pokemon HOME's launch, here is all of the notable Pokemon news from the 9th to the 15th of November!
Pokemon the Movie: Secrets of the Jungle Revealed!
The long anticipated localistation of Pokemon the Movie Coco has finally been revealed for the West with the title "Secrets of the Jungle". This movie features the new mythical Pokemon Zarude, a shiny Celebi and a young boy named Koko who was raised by Pokemon in the jungle. The movie is set to release in 2021.
New TCG Expansion Vivid Voltage Launched
The newest Expansion for the Pokemon Sword and Shield Trading Card Game released with over 200 new cards to collect in the set including, for the first time Zarude and Gignatamax Orbeetle. The set also contains some shining varieties of Pokemon. For a full list of the new set see Serebii's listing here.
Zarude finally available in the West!
To tie in with the new TCG expansion, Zarude Distributions have begun in the west with it being obtainable from select stores, full list is below:
UK and Spain – GAME Stores
Austria, Germany and Switzerland – Gamestop Stores
Italy and Ireland – Gamestop Online Store
Belgium and Netherlands – GameMania Online Store
France – Micromania Online Store
Portugal – FNAC Stores
Sweden – Spelochsant or Webhallen's Online Store
US, Canada, Australia, and Latin America – Pokémon Trainers Club Newsletter (Sign up by November 20th)
Pokemon GO to HOME Compatibility Out Now!
Niantic dropped support for the cloud storage service Pokemon HOME from nowhere this week which was slowly rolled out down to lower levels as the week progressed. This enables players to transfer Pokemon caught in GO up to the cloud service to use them in Sword and Shield (if compatible with the game) and any future Pokemon games. This did however come with a catch, you have 10000 transfer energy to use and once it has been used it takes 7 days or 1000 Pokecoins to recharge. As the 10000 can be used just to transfer one shiny legendary or mythical Pokemon fans of the game have taken to call Niantic out on the anti consumer practice of charging the players $10/£10 in order to be able to transfer more Pokemon at any time. Niantic have yet to respond to this but based on the backlash taken from this poor decision it is likely that we are to see some adjustment to this process in the near future.
Also in Pokemon GO News..
In addition to the Home compatibility, Niantic have outlined a few changes to the game to come soon. First of all, Mega Energy is now obtainable by walking with a Pokemon you have already Mega Evolved making it significantly easier to get more Mega Energy for Pokemon like Beedrill and Venusaur who are no longer in Mega Raids. Also, as a test until November 16th, trade distance has been increased in Pokémon GO to around 12km (normally it is a feeble 100m)
Secondly, Niantic have revealed a new ticketed event for Tainan, Kyoto, Auckland and Busan on November 22nd for all players in the area to help complete AR mapping tasks for Gyms and stops in the local area with rewards for completing the tasks including incubators, incencse and lucky eggs. The event will cost $5 (or local equivilant currency)
And finally, Lugia is due to leave raids on November 16th to be replaced with Terrakion with it being capable of being shiny on encounter.
Pokémon Center now delivering to Canada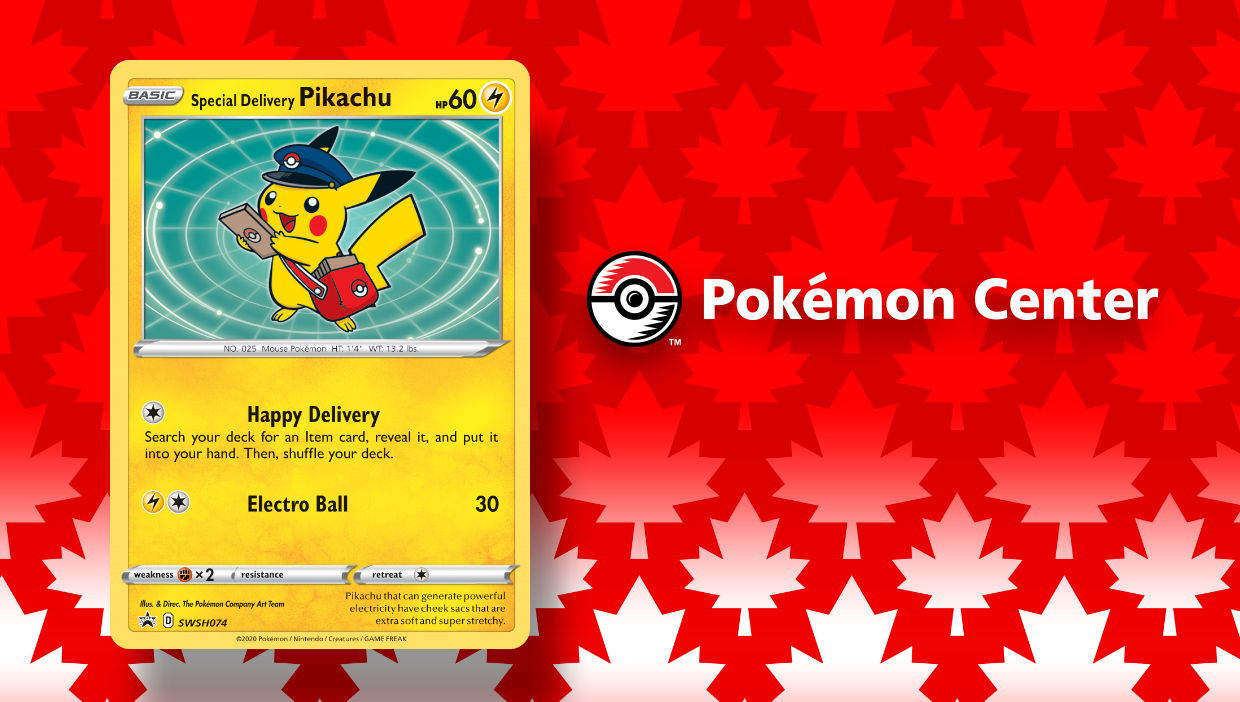 The US Pokémon Center have announced that orders via the website will now ship to Canada through a the PokemonCenter.ca portal. To celebrate this all orders of over $20 on the website in the US and Canada will receive a promo card featuring Special Delivery Pikachu while stocks last